Potluck Saturday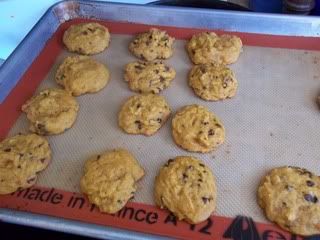 My favorite fall cookie. These are requested... no, demanded every year on our group camping trips! I'll admit, they are different than anything else I've ever had, so I wasn't taken with them on the first bite, but by cookie #2, I was ADDICTED!
1 Cup Butter
3 Cups Sugar
2 Cups Pumpkin (one can)
2 Eggs
5 Cups Flour
2 Tsp Baking Powder
2 Tsp Baking Soda
1 Tsp Salt
2 Tsp Cinnamon
1 Tsp Allspice
2 Tsp Vanilla
2 Tsp Nutmeg
1 Pkg Chocolate Chips
Mix the dry ingredients in a large bowl and the wet ingredients in a separate bowl. Then combine and add in the chocolate chips. Mix all together and bake at 350 for 9-14 min. (depending on the size you make them) They are done when bottoms have browned and middle is no longer gooey. (It can be hard to tell...keep a watch after about 9 minutes!)
Makes 7 dozen
I have noticed that these don't expand very much, so I can fit 20 cookies (4 rows x 5) on my half-sheet cookie sheets. Thought I'd pass that on because it saves time with such a huge recipe!