In the spirit of "Keeping it Real"...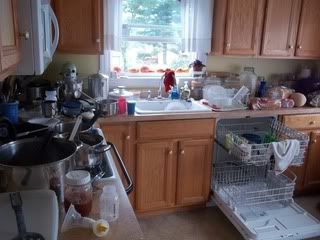 I give you "Dirty Dishes Take Over".
Yes, this is my kitchen. I wish I could say this only happened once a year. I wish I could say this only happened once a month. You see, I have a problem. I love to cook, but I don't love to do dishes. It is my least favorite chore. I'll
fold nine loads of laundry
with a smile on my face, even when I have to fold up those pesky fitted sheets. But the dishes... Ugh.
I could get away with procrastination of this sort when it was just Preacher Man and I and I could even sort of manage to let things slide when there were only three of us. But cooking more things from scratch, serving three meals a day + snacks (we seriously eat a lot!), and adding more mouths to feed BUT not adding any more dishwashers = "Dirty Dishes Take Over".
Kitchen Day is on Tuesdays. I wish I could say that I spent most Kitchen Days doing some extra baking or making freezer meals. So far, Kitchen Day has been spent getting the kitchen CLEAN! Some of these are chores like wiping out the fridge and cabinets, cleaning the microwave, etc... Last week, my big accomplishment on Kitchen Day was to finally catch up and get every last blessed dish washed. (That had not happened in at least four days.)
Times have been tough lately, and to cope I am making fun of myself, but really, I'm ok with things sliding into temporary chaos like that. This just lets you all know that I really am a human being.
But in the spirit of trying to be helpful, which above all, I'm always trying to do, I'll share what has helped me stop procrastinating and just get those dishes washed!
It's too simple really, but here it is:
Wash the dishes (all of them!) after every meal.
Every meal.
(I do allow myself exceptions, but I'm usually wishing later that I hadn't.)
It's so easy to say, "Oh there are only a few dishes here, I'll just do them later." The problem is that
later
they have piled up all around the kitchen such that I can't even function let alone fix a meal!
Later
too easily becomes tomorrow. Besides, when you wash them right away, the job is so much easier! There is less stuck on food and general nastiness. The job really is so much more easy and pleasant when it is only a sinkful of dishes. And I'm much more likely to invite a certain Littles to come splash in the water alongside me when I'm cheerfully washing up a few dishes and not dealing with the mess shown above.
And this is when I must be the grown up that I am and work at it until this habit becomes second nature.
How do you keep up with the dishes at your house?