I am REALLY excited about this gift! I just finished making a very special photo book for my Littles, and now I'm making one for my nephew. I came across
this little board book
in a Bible book store this past summer, and really loved it. It's a sweet book, and I bought it as a gift for someone. It got my wheels turning as to how I could make a personalized version using pictures of my own children and more Bible verses.
My Littles love looking through their first year scrapbooks and seeing pictures of themselves, and Little Littles is excited to point out body parts. Big Littles is old enough to start listening to explanations of what these verses mean. It is a wonderful little teaching tool in so many ways, and I'm hoping it will also be a good quiet book for church!
To make one of your own, you will need:
a mini photo album - mine was $2.40 at Michaels for a nice quality one. I would think you could find these at the dollar store too, though they may not have as many available pages. (Mine has 36.)
Some kind of paper and a sharpie - I had extra scrapbook paper around from making valentines about 6 years ago! It's about time I used it up! I liked handwriting the verses, but if you don't like your handwriting, you can print them from the computer.
Pictures of the kiddos. You can make these for your own kids, grand-kids, nieces, nephews, friends... You'll just need to have access to a lot of photos to do it.

I don't put pictures of my kids on this blog, so I've covered up faces or took pictures with a strategic glare on these sample pages. I hope you can still get a good idea of what can work. I tried to find pictures that depicted the verses well. I didn't take any pictures specifically for the book, but you could do that if you needed to. Any pages that are not detailed below just contain a photo corresponding with a verse or body part that God made.
Cover: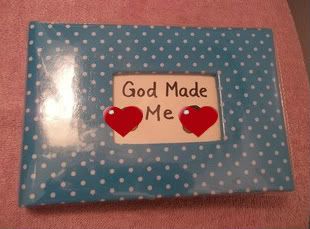 Page 1 - Portrait with the caption, "God Made Me"
Page 2 - "So God created man in His image, in the image of God He created Him." Genesis 1:27
a Littles looking in a mirror
Page 5 - "I praise You, for I am fearfully and wonderfully made. Wonderful are Your works; my soul knows it very well." Psalm 139:14
Page 7 - God made my eyes. "Looking unto Jesus, the author and finisher of our faith." Hebrews 12:2
Page 11 - God made my nose. "For we are a fragrance of Christ to God among those who are being saved and among those who are perishing." 2 Corinthians 2:15
Page 15 - God made my ears. "Listen to counsel and accept discipline, that you may be wise the rest of your days." Proverbs 19:20
Page 19 - God made my mouth. "Oh taste and see that the Lord is good; How blessed is the man who takes refuge in Him." Psalms 34:8
Page 23 - God made my hands. "I have set the Lord continually before me; Because He is at my right hand, I will not be shaken." Psalm 16:8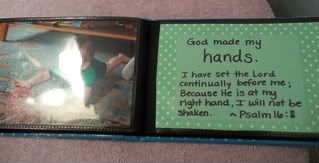 Page 27 - God made my feet. "For your lovingkindness is before my eyes, and I have walked in your truth." Psalm 26:3
Page 29 - "Establish my footsteps in Your word." Psalm 119:133
Page 31 - "Whatever your hand finds to do, do it with all your might!" Ecclesiastes 9:10
Page 33 - "Even a child is known by his doings, whether his work be pure, and whether it be right." Proverbs 20:11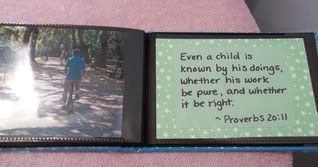 Page 35 - "Wondrously show Your steadfast love, O Savior... Keep me as the apple of Your eye..." Psalm 17:7-8
Page 36 - Portrait with caption, "Thank you God for making me."
Pin It