I love to do a fun little something with the Littles each day in December as a countdown until Christmas. I keep it simple... VERY simple, even going so far as to make every Sunday a simple Hershey Kiss as a treat. Many of the days, I plan to just read a book together (which we do many times a day anyway). We all have fun doing it, and it motivates me to take the time to do special things with them.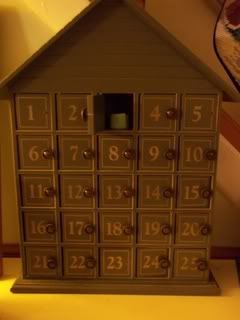 (Our countdown calendar... steeply discounted because some of the knobs are missing... need to do something to fix them, but we enjoy it anyway!)
Here is our line up for this year:
1 - bake bread
2 - read
"Up on the Housetop"
3 - begin our sticker chart countdown (just a little behind... oops!)
4 -
make hot cocoa
5 - deliver cards and gifts to the neighbors
6 - make
sugar jumbles
7 - make paper snowflakes
8 - write a letter to Santa
9 - make a winter scene with Lincoln Logs
10 - read
"Counting Christmas"
11 - get a chocolate kiss
12 - read
"White Snow, Bright Snow"
13 - make
cut out cookies
14 - make stamped cards for the relatives
15 -
make "stained glass trees"
16 - read
"The Polar Express"
17 - Daddy Appreciation Day
18 - get a chocolate kiss
19 - make
cinnamon/applesauce ornaments
20 - read
"How the Grinch Stole Christmas"
21 - read
"Mr. Willowby's Christmas Tree"
(My favorite Christmas book!)
22 - make cookies for Santa
(biscotti)
23 - make
reindeer treats
(essentially, fancy chex mix)
24 - make pigs in a blanket (We are celebrating as a family on this day so we can focus on our worship to God on Sunday.)
Other ideas:
- Make gingerbread or
cherry eggnog bread
- Fill up the birdfeeders
- Make snowmen pancakes
- Gingerbread houses
- Decorate upside-down ice cream cones as trees
- Make beaded candy canes on pipe cleaners
-
Make recycled card ornaments
*** Note - I finally became an Amazon affiliate. The links on the books are affiliate links, so if you order something from Amazon through my links (even if it is not what I link here), I get a few pennies... I think... This is my first attempt, so we'll see what comes of it. THANKS!!!
Pin It