During my childhood, I remember always having birds at the top of our Christmas tree. I've been feeling a bit wistful for those birds this year and wanted to re-create that a bit for our little family. Preacher Man gifted me half an hour child free at Michaels so I could satisfy my creative monsters as
my friend April
loves to say.
I fell in love with the glittery cardinals.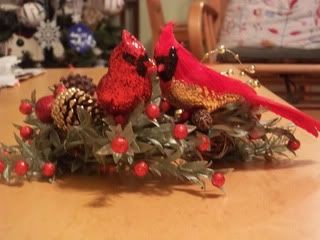 They are flashier than what I typically buy, but it is Christmas, after all, and once on the tree, they are a perfect fit!
Here's what I did:
I bought:
2 glittery cardinals
a package of cinnamon pinecones - some are painted gold and there are some pretty glittery red berries in the pack too
a small grapevine wreath for the foundation
a little pick with gold berries

a length of berry garland
I also used some hot glue and some heavier gauge beading wire that I had on hand. Green floral wire would be better, but I didn't have any, and the silver works just fine.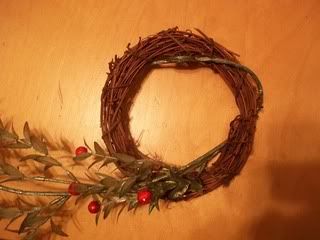 1. Wrap the berry garland around the grapevine wreath, tucking in the ends so they don't show.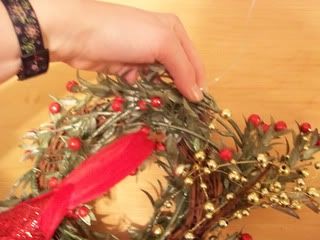 2. Preacher Man suggested that I wrap the garland with the wire because the branches of the garland were sticking out too much. I just tucked the ends of the wire deep into the wreath, and gently wrapped around the little branches to reign them in.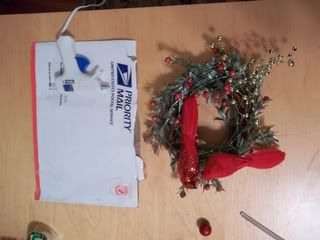 3. Decorate!! I stuck the gold berry pick deep into the wreath, attached my little cardinals, and glued on the pinecones and glittery berries. Place things on the wreath strategically to cover bare spots and wire ends. Be sure to leave the middle of the wreath open so there is room for the top point of the tree to poke through.
Voila!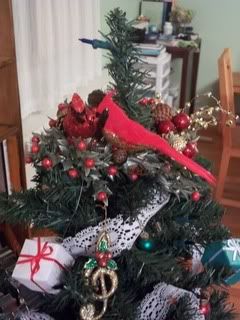 I think they are just too sweet! The Littles love them too!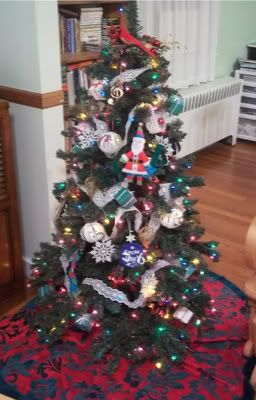 This year's tree, all decked out. Last year, I got creative to make a babyproof Christmas tree, and I loved so many of the things I did, that I'm bringing them back again this year. These
paper ball ornaments
are absolute favorites! The Littles love hanging the pretty copper and silver cookie cutters on the tree as ornaments, and I still think the lace looks lovely as a garland.
I'm saving cards to make some of
these ornaments
this year, and I hope to bundle up the Littles to hunt for some acorns so I can make
these lovelies
to mix with my cinnamon pinecones.
What holiday crafts are you undertaking this year?
Pin It