Standing over the meat case, staring down at a pile of these babies...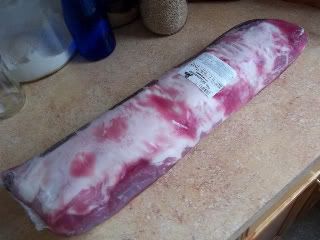 Boneless pork loin was marked down to $1.69/lb and I was looking for a moderately sized one, while the woman next to me was doing the same. She had her coupons in hand and was muttering, wondering what on earth would she do with such a massive piece of meat?
Church Mouse comes to the rescue!!!
I showed her how to play butcher at home and divide up the meat into smaller, more useful pieces for everyday eating. She went away happy with her bargain and I did too.
Here's how you do it:
Divide the meat into thirds.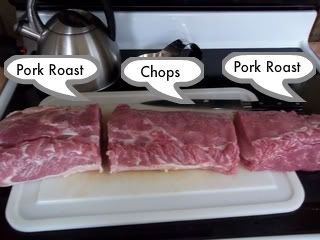 Now you have two roasts and you can use the middle for pork chops. Slice the middle section into 1" thick chops like so.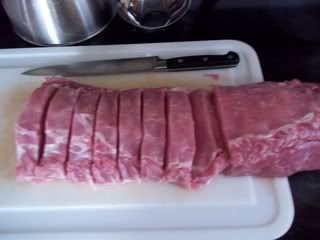 I ended up with NINE, beautiful, thick pork chops! These are MUCH nicer than what I buy pre-packaged in the store.
Then I took one of the roasts and cut it up into chunks to BBQ in the crock pot.
I packaged up the meat in freezer bags, labeled them, and this is what I got: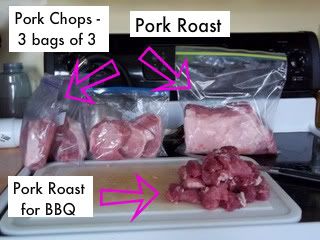 Now, let's do the math and see just how much of a bargain we got!
For a nine pound roast at $1.69/lb., I paid $15.21, which I'm rounding down to $15 to make things easier. Dividing the roast into three parts, makes each third $5.
$5 = a large pork roast that I plan to stuff and serve with sauerkraut. This will make either 3 meals for us or 1 large company meal.
$5 = 9 pork chops, which will be three meals for us, which will cost $1.69/meal.
$5 = shredded BBQ pork. I didn't measure, but it was about 5 cups when I was done. The BBQ pork can go on baked potatoes and sandwiches. We have eaten it for 2 meals and have at least half of it left.
Here's my recipe for BBQ pork in the Crockpot
3 lbs. pork, cubed
2 c. chopped onions

3 green peppers, chopped (I used a 12 oz. pkg. of frozen ones.)
1/2 c. brown sugar
1/4 c. apple cider vinegar
6 oz. can tomato paste
1 1/2 Tbs. chili powder
1 tsp. dry mustard
2 tsp. Worcestershire sauce
2 tsp. salt
Combine all ingredients in the crock pot. Cook on low for 12 hours or so. Shred the meat with a fork and mix into the sauce. If the sauce needs to thicken some more, cook on high with the lid off until it cooks down.
(Adapted from "Fix It and Forget It")
Enjoy!