In honor of my mother, this is a very close rendition of her lasagna recipe. It is a simple, classic, lasagna with ricotta and ground beef. It is DELICIOUS!
Nearly every time we had company, mom made lasagna and salad. Relying on my memory from my childhood, which we know is not at all reliable, we never had lasagna at any other time. So lasagna was THE special meal and it was a real treat! I do not have her original recipe because I believe it was one of those, "little bit of this, little bit of that" type of things... sounds kinda like me, huh? :) But I came across this one on a pasta box several years ago and made it and it is exactly what I remember, and I was filled with joy and nostalgia.
Do you have a special meal you associate with your mother? What about hospitality? Did your mother always make the same thing? I can see the wisdom in this. After all, it is a faithful, reliable meal that most everyone enjoys. She served it with confidence! It is not what I do, but I admire her for the way she did it.
And without further adieu...
My Mom's Classic Lasagna
1 box no boil lasagna noodles
2 eggs
15 oz. container of ricotta
4 c. (1 lb.) mozzarella, divided
1/2 c. grated parmesan
2 lbs. ground beef, cooked and crumbled*
2, 26 oz. jars spaghetti sauce (or your homemade sauce)
*I have substituted half Italian sausage, which is also very tasty!
Preheat the oven to 375* and grease a large, deep baking pan. (This will overflow a standard 13x9, so if you don't have a larger or deeper pan, use two smaller ones.) In a medium bowl, beat the eggs. Stir in the ricotta, 2 c. mozzarella and the parmesan.
To assemble, layer in this way:
1 c. sauce
4 noodles (side by side, not overlapping)
1/3 c. cheese mixture
half of the meat
1 c. mozzarella
1 c. sauce
4 noodles
1/3 c. cheese mixture
1 1/2 c. sauce
4 noodles
remaining cheese mixture
the rest of the meat
1 c. sauce
4 noodles
remaining sauce
remaining mozzarella
Don't be intimidated by the long list... it's really quite simple.
Cover with foil and bake for 50-60 minutes. Uncover and broil until the cheese browns lightly. Let it stand for 15 minutes before cutting.
Serves 12
***Zucchini Alternative***
(for low carb or gluten free eaters!)
Instead of a box of lasagne noodles, prepare some zucchini or yellow squash sliced thin for those layers. You will need about 9 small zucchini or yellow squash for this recipe. Use a mandolin to slice them about 1/8" thick. Lay them out on a cookie sheet, salt them well and let them sit for about 10 minutes. Use a clean towel to blot as much of the liquid off as you can. Grill the strips until lightly brown. (I use the grill side of my griddle pan and it works well.)
And in honor of my sweet Granny, a tasty seasonal dessert -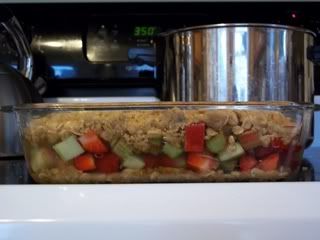 Isn't this beautiful?
Rhubarb Crunch
1 c. flour
3/4 c. quick rolled oats
1 c. brown sugar
1/2 c. melted butter
1 tsp. cinnamon
4 c. diced fresh rhubarb
1 c. sugar
2 tbs. cornstarch
1 c. water
1 tsp. vanilla
sweetened whipped cream (garnish)
Combine the flour, oats, brown sugar, butter & cinnamon in a bowl. Mix until crumbly. Press half of the crumbs into a 9" pan.
Cover with rhubarb. Combine the sugar, cornstarch, water and vanilla in a small saucepan. Cook, stirring until thick and clear. Pour over the rhubarb and top with the remaining crumbs. Bake in a 350* oven for 1 hour. Cut into squares and garnish with whipped cream.
(Granny always used Dream Whip. Which is nasty processed stuff, but it makes me smile fondly in her memory.)
Serves 8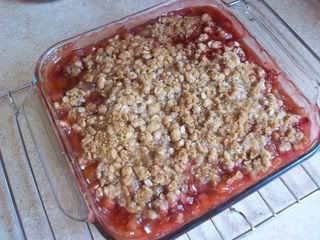 Note - I ran out of rhubarb the last time I made this, so I used 3 c. rhubarb and 1 c. strawberries. It was slightly more runny, but absolutely delicious!
GLUTEN FREE VERSION -
Substitute Bob's Red Mill Gluten Free Flour Mix for the flour and use Bob's Red Mill Gluten Free Oats.
Linking up with the Four Moms sharing fruit recipes.