Deja vu?
Yes, it is likely you have seen this post before! Blogger had some very annoying problems a week or two ago and I thought this post was lost and gone forever! Then I remembered that I subscribe to my own posts on Google Reader and wondered if it was still there. I copied/pasted and am so happy to be able to salvage this post.
Thanks for your patience!
- - - - - - - - - - - - - -

The weather is finally warming up and it is oh-so-satisfying to dig into a nice cool salad for supper without having to turn on the oven! Adding meat to a salad can make it stand on its own as the main course, and in the summer, I love getting the Preacher Man to do some grilling for just such an occasion. In fact, every time we grill, I try to give him a couple of boneless skinless chicken breasts to throw on the side. I slice them up after they are cooked and freeze them in ziploc bags to make it easy to add them to a salad or pasta dish. These are especially wonderful to have in the winter when the snow makes grilling a bit more of a hassle. There's just nothing like that wonderful charcoal grilled taste!
Think of these recipes as
inspiration
. These are my three favorite "company salads" that I like to bring to a potluck or serve to guests because they are more distinctive than our every day green salads. I use a recipe because it helps my poor addled brain to remember what worked and what we liked in the past, but I don't make any of them the same way twice. Use the ingredients you have on hand, what is in season, and hopefully by June or July, whatever is fresh from your garden for the best tasting salad.
These salads are sometimes made up ahead of time, but do be mindful of your company. When we have guests in our home, I'm usually chopping veggies while we are visiting and I try to ask if there is anything they would prefer to have on the side. Some people have strong aversions to certain things, and I am happy to indulge them.
Which also reminds me... working alongside someone in the kitchen is a wonderful way to break the ice. Handing over a cutting board, knife and a few veggies to prepare may help someone feel more at home with you and it will free up your hands to finish up the dressing, wash up a few dishes, or something else that needs doing.
Enjoy your salad with some
southern sweet tea
, some bread, and dine al fresco if the weather cooperates. Sounds like the recipe for a delightful evening with friends.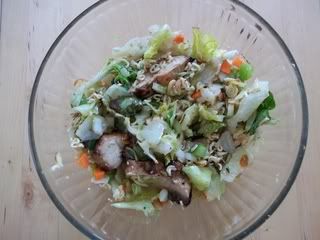 Chinese Chicken Salad
2-3 grilled boneless skinless chicken breasts, sliced
2 oz. slivered almonds
2 green onions, chopped
2 Tbs. sesame seeds
1 head lettuce
small can mandarin oranges, drained
2 pkgs. crushed Ramen noodles (uncooked)

Dressing -
1/2 c. sesame oil (or use part olive oil)
1/2 c. rice wine vinegar (may substitute plain white vinegar)
1 Tbs. sugar

1 Ramen flavor packet - I like oriental

Toss the salad, toss in the dressing, let it all marinate for up about an hour in the fridge before serving.
Corn Salad
- the fresh corn really
makes
this salad!
3 ears corn
1 english cucumber
1 small red onion, sliced in slivers
1 c. grape tomatoes, halved
2 heads of lettuce, torn
Dressing -
3 Tbs. red wine vinegar
2 Tbs. olive oil
salt & pepper to taste
Cook the corn in a pot of boiling water until tender (8-12 min.) Run under cold water to cool completely. Slice off the kernels. Peel the cucumber and thinly slice. Combine all of the vegetables in a large bowl. Just before serving, drizzle with the dressing and toss.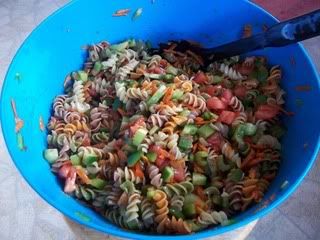 Classic Pasta Salad
1 lb. cooked and drained pasta (I like the tricolor rotini the best.)
1/2 c. diced carrots
2 stalks diced celery
1 diced bell pepper
1 diced english cucumber
2 lg. diced tomatoes
1 diced red onion
1 small can sliced black olives
16 oz. bottle Italian dressing (or make your own)

Toss it all in a large bowl. Refrigerate until ready to serve.
This post is a part of the
Four Moms Linkup on Summer Hospitality.
You may also enjoy reading
How HGTV and The Food Network Have Killed Hospitality
and
More on Hospitality
.