It's Potluck Saturday!
This recipe is healthy, simple, and very delicious! It's a terrific way to eat your greens!
1 medium onion, chopped
1 small head of
escarole
(about 1/2 lb. You will find it near the lettuce in the produce aisle.)
2 large carrots, grated
10 cups chicken stock, preferably homemade (I sometimes use half veggie stock)
6 oz. tiny pasta shapes - I like stelline (the tiny stars) though ditalini is easier to find
Freshly grated Parmigiano-Reggiano cheese
1 lb. Meatballs
- I keep these made up in the freezer, though you can also buy the ready-made ones.
Preparation:
Saute your chopped onion in some olive oil in a large pot. Cook until the onions begin to brown.
Meanwhile, trim the escarole and discard any wilted or bruised leaves. Cut off the stem ends. Separate the leaves and wash well in cool water, especially the center of the leaves where soil collects. Stack the leaves and cut them crosswise into 1-inch strips (like a large chiffonade). You should have about 4 cups.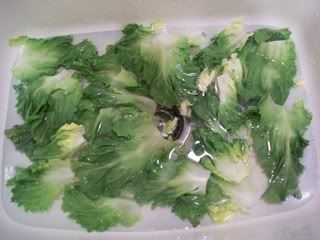 When the onions are ready, combine the escarole, carrots, and stock in a large pot. Bring to a simmer and cook until the escarole is almost tender, about 30 minutes.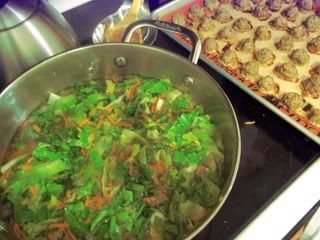 When the escarole is almost tender, stir in the pasta and return the soup to the simmer. Drop the meatballs into the soup. Cook over low heat, stirring gently, until the meatballs and pasta are cooked, about 20 minutes. Taste for seasoning. Serve hot with grated Parmigiano-Reggiano.
Serves 8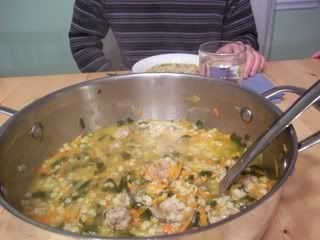 Variation: To make a gluten free version, substitute a can or two of cannelini beans for the pasta. (You will want to make sure you make gluten free meatballs as well.) You can also substitute the beans for the meatballs if you want a meatless version, but I gotta tell you... the meatballs make the soup!
Pin It