This is such a joyous time of year! It's the little things, you know?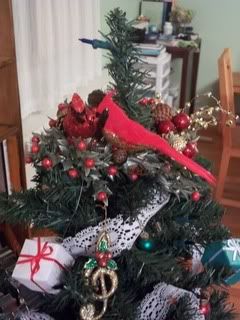 Reindeer Food
small twist pretzels (antlers)
red and green m&ms (red for rudolph's nose, green for the buttons on the elves' coats)
any chex cereal (Santa's sack of toys)
peanuts (reindeer need protein because they work hard all night long!)
Just mix in a bowl in whatever quantities you enjoy. This makes a nice Christmas morning snack along with fruit and our traditional pigs in a blanket. Serve with homemade hot cocoa!

Just for fun...

Christmas Seeds
I have never done this, but I read the idea years ago and thought it was cute... The night before Christmas, go outside with your children and "plant" unwrapped peppermints in the snow. (Or the ground if you have no snow.) After they go to bed, switch the peppermints for candy canes. Imagine their surprise the next morning! (If they want to do this every night, just remind them that it only works on Christmas Eve!)

More of our favorite holiday treats:
Chocolate Hazelnut Biscotti
Cherry Eggnog Bread
Sugar Cookies
Hawaiian Snowballs
Be merry!
This post is a part of the Four Moms Holiday Cooking Linkup.
Pin It